Self Guided Walking Holidays
on the Saints Way

The Saints Way, or in Cornish, "Forth an Syns" is a long-distance path cutting right across Cornwall from Padstow on the north coast, to Fowey on the south. The route came to light in 1984 when local ramblers found a series of forgotten granite stiles and has since been upgraded and improved.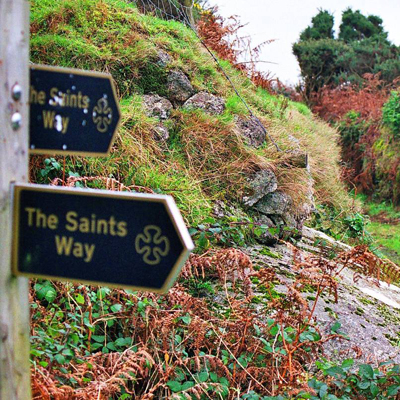 Official Path Distance 30.0 miles (48.3 km)

A short walking holiday from the North Cornish coast to the South. It follows the probable route of early Christian travellers making their way from Ireland and Wales to Brittany and the European mainland. The route starts at the picturesque harbour in Padstow and heads south joining the Fowey River near Lostwithiel for a lovely waterside stretch that leads to Fowey.
As you walk this trail, you will doubtless be following in the footsteps of Christian missionaries and pilgrim's en-route to Rome or the Holy Land; or early Celtic traders transporting gold from Ireland through Cornwall and onwards to the European mainland.
Arriving in the bustling old harbour town of Padstow you will find many superb restaurants or pubs to visit to relax before the walk.
Now refreshed and ready for the next day, the route will take you along the banks of the River Camel before gently rising to the beautiful windswept moors and villages dotted around scenic mid-Cornwall, where rolling pastures of ancient farmland, pretty riverside villages, quaint churches, standing stones and ancient bridges all make this a journey to remember before arriving in Fowey (pronounced Foy to rhyme with joy) a delightful historic town and port steeped in history and packed with places to eat and drink to celebrate the end of your journey.
This walk is a real Cornish gem